:: New Accessories Review Site ::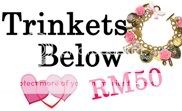 Hi all! We all know how useful review sites are in helping us find that unique fashion item that will make our day and outfit. There aren't that many sites that solely review fashion jewellery and accessories. But now there's a review newbie in town and the good news is that she only reviews
Trinkets Below RM50
.
Especially apt and useful for the hard hit recession fashionista. Head on over to Trinkets Below RM50 to check out the latest fashion jewellery and accessories our online shops have for sale.